Halloween is less than a week away!

So, the only thing to do (of course) is to make all my posts Halloween-themed this week.
To kick things off, why not treat yoself to a Halloweeny afternoon/evening complete with spooky movies/tv and seasonal snacks? Like, while you're watching The Nightmare Before Christmas for the 10 billionth time…
You could pull a Hobgoblin beer out of the fridge. Or a Pumpking. Or a Black Wych. They're all made by Wychwood Brewery, so take your pick!
And you can munch on some "zombie fingers."
You could also be interesting/un-lazy and make something really cool, like Ashton's (of Something Swanky) Pumpkin S'mores Cupcakes.


Or, something kinda gross-looking (but all in good fun 🙂 ) like Witch Finger Cookies.
You can throw on my most FAVORITE creepy cartoon ever, BEETLEJUICE!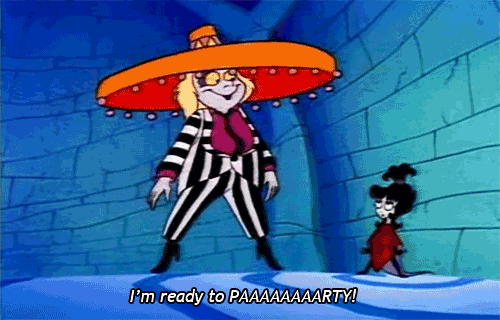 I used to wish with all my tiny heart to be Lydia.

Don't forget to light your Candy Corn and Witches Brew candles.

And carve a pumpkin or two…

And wear something awesome because you'd never do fun Halloween stuff with people who'd judge you.

But whatever you do (or watch, or make, or eat, or drink, or wear), have fun!

Scare and be scared.

Just don't get carried away…